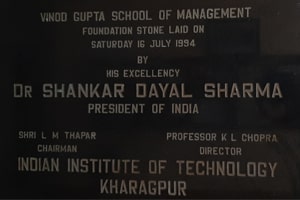 Vinod Gupta School of Management started in 1993 as a unique initiative among the Indian Institutes of Technology. A management school within IIT Kharagpur, VGSoM imbibed the parent Institute's culture of research and quality teaching. More than 25 years since its inception, the school has grown holistically, winning several accolades and setting new benchmarks of excellence. Today, VGSoM plays a pioneering role in nurturing leaders of tomorrow by blending management philosophy along with technological advancement to develop managers, who appreciate both critical technological issues and their business implications. IIT Kharagpur, as an established world class institute, helps VGSoM leverage its strength in terms of infrastructure, intellectual resources, illustrious alumni and its "will to be the best" Business School in India.
Starting with its flagship Master of Business Administration, VGSoM currently offers a repertoire of five programs. The Executive MBA program is run from its Kolkata campus, attracting working executives primarily from the eastern region of the country. The school has a vibrant Doctoral Program. The Dual Degree Financial Engineering is a unique program, wherein the students complete a bachelor's degree in core engineering, and obtain a master's degree in Financial Engineering. This program is jointly offered by VGSoM, and departments of Mathematics and Humanities & Social Sciences of IIT Kharagpur. The Post Graduate Diploma in Business Analytics is another first-of-a-kind program, offered jointly by three premier Institutes, namely, Indian Statistical Institute Kolkata, Indian Institute of Management Calcutta and IIT Kharagpur.
Besides fulfilling its teaching responsibilities, VGSoM faculty and students actively engage in academic research and industrial consultancy. The School offers Management Development Programs throughout the year. The students are valued by the industry, as is evident from the placement statistics of the School.
Over the years, VGSoM has been improving its ranking and is currently ranked as the fifth best management school in the country, by NIRF ( MHRD , Govt.of India ). VGSoM continues its journey with the spirit of IIT Kharagpur, encapsulated in the words: Yogah Karmasu Kaushalam.
Mr. Vinod Gupta
Mr. Vinod Gupta is the Founder and Ex-Chairman of InfoUSA, Inc. The publicly held company (NASDAQ: IUSA) is headquartered in Omaha, Nebraska, USA, with more than $300 million in yearly revenue and 2,000 employees. Over three million customers use their proprietary databases and services for direct marketing, telemarketing, marketing planning, lead generation, sales planning, customer analysis and credit generation. Mr. Gupta served as CEO of the company from the time of its incorporation in 1972 until September 1997 and from August 1998 to August 2008.
Mr. Gupta graduated from IIT Kharagpur in 1967, and went to the University of Nebraska at Lincoln to complete his MS in Agricultural Engineering and a Master's degree in Business Administration in 1971. After graduation, while working as a marketing research analyst with a company manufacturing mobile homes, he was asked to evaluate the performance of rival companies. It was then that he found that it was difficult-to-get information and that information gathered also tended to become obsolete in no time. That led him to the idea of starting American Business Information Inc., now known as InfoUSA Inc., which made a modest profit of $ 22,000 at the end of the first year. The lists prepared by the company soon became cost-saving marketing tools for American small business and the company took off.
Mr. Gupta, who subsequently became an American citizen, has always been conscious of his Indian roots. He generously contributes to his alma mater as a mark of respect for making him what he is today. In 1993, he gave $2 million to establish a business school in IIT Kharagpur to be modelled after the School of Management at Massachusetts Institute of Technology (MIT). This new school that he had helped set up was named, 'Vinod Gupta School of Management'. Mr. Gupta has been donating generously to a number of causes at IIT Kharagpur. He has also established a state of the art Science Block at his old school at Rampur, which was inaugurated by former U.S. President, Bill Clinton, in 2003. He recently donated $1 million to set up a Women's Polytechnic in Rampur. He is establishing another multimedia training institute for women at Rampur, named after Hillary Clinton. His generosity is not confined to India. He has also donated $2 million to establish a curriculum for small business management at the University of Nebraska at Lincoln.
About IIT Kharagpur he says that it was here that he discovered a different India. He was from a tiny village in UP and at Kharagpur he found students speaking different languages and coming from different cultures. He is ever grateful to IIT Kharagpur for this awakening and for giving him a solid foundation on which he built his career. His adopted country, the United States of America, gave him the opportunities and wealth to make it possible to generously help worthy causes in both countries.
Vision
To be globally recognized in management education and research and producing socially responsible business leaders.
Mission
To develop technology driven, innovative business leaders, promote entrepreneurship, agility and sustainability, and adapt diversity and inclusivity for societal benefit.
Core Values:
Trust and ethical conduct,
Innovativeness
Sustainability
Address
Vinod Gupta School of Management,
Indian Institute of Technology Kharagpur,
Kharagpur - 721302,
West Bengal, India
deanvgs@hijli.iitkgp.ac.in
Phone: +91.3222.282295 / 282297
Fax: +91.3222.278027