SMU
IIT-Kgp Immersion Experience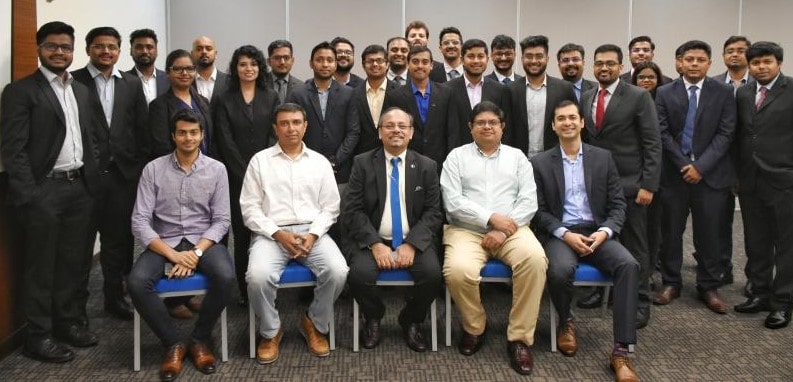 About Singapore Management University: Lee Kong Chian School of Business (LKCSB) is a dynamic Asian business school with about 3,000 students and over a hundred full-time faculty members with postgraduate degrees from renowned universities such as Cornell, Harvard, INSEAD, Oxford, Stanford and Yale. The school offers undergraduate, master's (including MBA and EMBA) and doctoral programmes and is affiliated with a number of research centres such as the Institute of Service Excellence and the Centre for Marketing Excellence.
Twenty-five students selected on the basis of their prior work experience in diverse sectors from MBA and Executive MBA of VGSOM participated in this collaborative programme. Eminent academicians from Singapore Management University and industry leaders offered experiential learning experience at the first edition of the programme. Another remarkable aspect of this programme was the live industry projects undertaken by the students under the aegis of corporate giants like DBS Bank, Citibank, GSK and niche players like Lendingkart and BondEValue.
Courses covered during immersion program:
Advanced Portfolio Management Session
Hedge Fund and Alternative Investments
Applications of Fintech Session: Bond Valuation and AI
Applications of Fintech Session
Innovation and Entrepreneurship Session: Financial Technology and Case Study
Innovation and Entrepreneurship Session: Formulating Business Plan
Program structure and Experience:
Students were allowed to showcase their business acumen through a live simulation exercise on Portfolio Management which was both engaging and challenging. The discussion during the courses had unique blend of theory and practice. Apart from the class room interaction and lecture by the eminent practitioner, this field trip also included a visit to the Singapore Stock Exchange with a focus on global economy and technological adaptation in an exchange.
Students further got the opportunity to participate in a panel discussion with Asia's leading business leaders which gave exposure to the students to understand the Indian business scenario from a global perspective and consider international career opportunities. Students further worked on challenging business problems requiring leading-edge technological solutions based on a strong understanding of fundamental business concepts. These projects which form a part of the MBA curriculum are currently afoot with mentors from both institutes and respective companies being assigned to guide the students.
Links for media coverages: